It sounds like a dream to have customers competing to be the most loyal and telling everyone they know about your business, but for Off Broadway Deli, it was reality.
You know the old way to increase customer engagement for your small, local business. The way that involves printing out rewards punch cards and handing them out to customers. While they're better than nothing, your business (and customers) deserve better.
Paper loyalty cards don't just fail because they're easy to forget about or lose, though that's true. They aren't effective because they aren't fun. There's usually no time limit, and they're just passively used if you happen to go into that store or restaurant.
When Off Broadway Deli teamed up with Sparkage, their customer engagement changed for the better.
Digital customer loyalty programs give customers more options
While traditional customer loyalty reward programs are usually limited to a single reward, such as buy five subs and get the 6th free, mobile programs like Sparkage let you add as many rewards as you want. After all, it's your business.
For example, by spending and earning points, customers can "cash in" on any number of rewards from free items to entire meals. Not only are you in charge of establishing rewards and their point values, but you also determine what it takes for customers to earn those points.
In the case of Off Broadway Deli, for example, buying a sandwich earns you six points while adding on a bowl of soup to your order will get you three points closer to a reward.
By providing more options you're already upping the ante, but we decided to partner with Off Broadway Deli to kick it up even more.
A little friendly contest gets customers "very competitive and excited" to shop with you
When using Sparkage, as customers rack up points by shopping with you they get placed on a leaderboard of top customers. This built-in competition adds an element of fun to your customer engagement strategy, but Off Broadway saw terrific results with a month-long contest sponsored by Sparkage.
The challenge? Become the number one customer on the leaderboard at the end of one month, and win the grand prize. There were also prizes for second and third place. The more someone visited the deli, the more points they earned. It became a race to the top, and seeing someone surpass you on the leaderboard became motivation enough to run back to Off Broadway for a sandwich.
The owner of Off Broadway noted that customers became "very competitive and excited," and soon they started bringing in their friends. When friends at the office wanted to go out for lunch, a customer vying for the top spot naturally suggested Off Broadway. After all, you wouldn't want to lose your advantage after all this time.
The customers who came in first, second, and third had an average increase in monthly points earned of over 430%. That means that customers were visiting, spending, and earning points at quadruple the levels they would have in other months.
The chart below shows the points earned per visit by the top three customers over a few months. The shaded area represents the month that the contest ran, which led to huge spikes in the number of points customers were earning. While customer engagement and spending did return to more normal levels after the contest wrapped up, you can see that the first and second place customers were spending a bit more after the contest than they would have been before. It's easy to understand why engagement would spike during a contest, but the chart goes to show that the impact carries on after the promotion.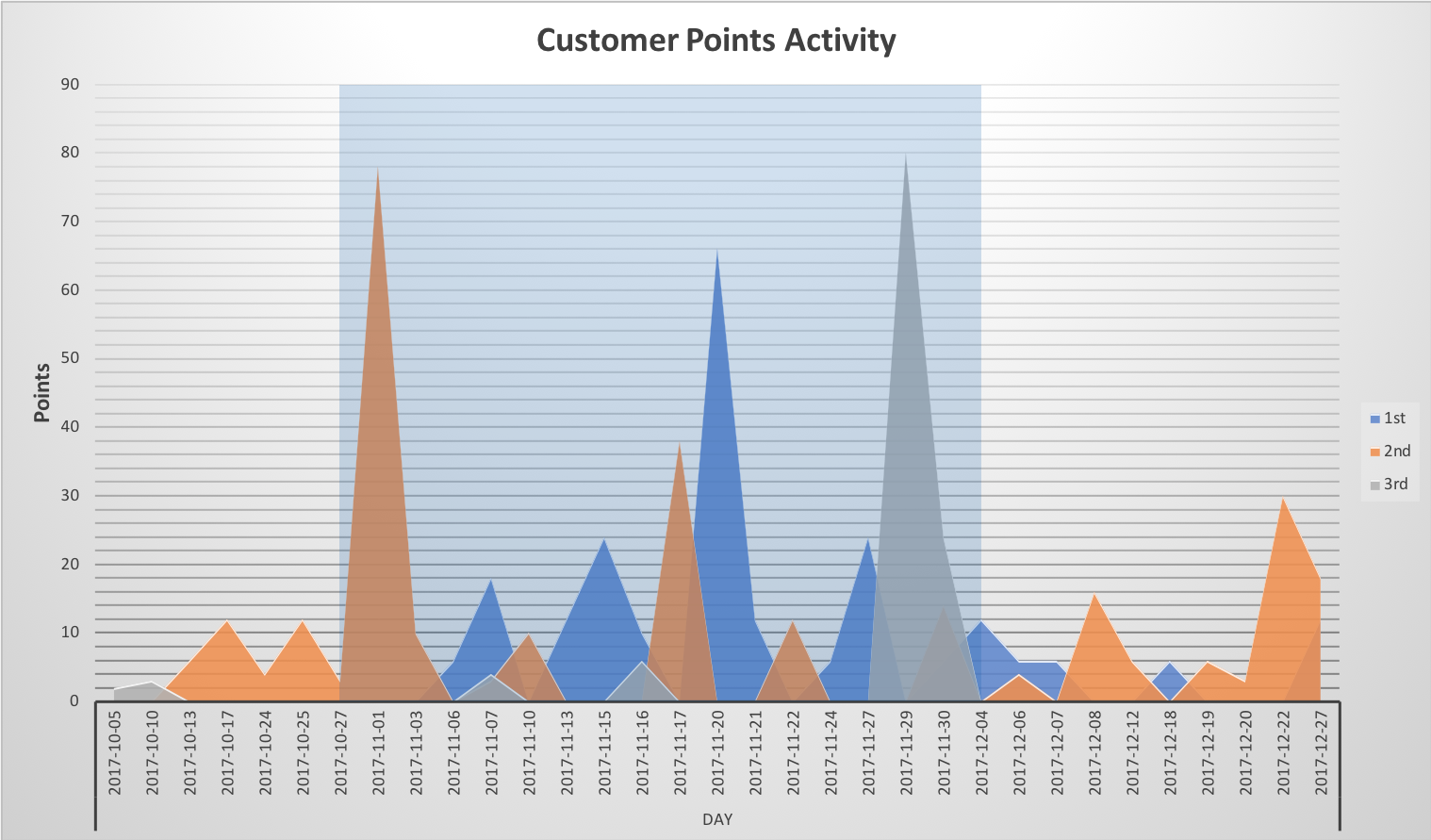 What's potentially even more amazing were the prizes given out to the lucky winners. The fantastic rise in customer engagement was spurred on by a $30 grand prize, followed by $20 and $10 for the runners-up. The prizes were small, but the impact was enormous.
For only $60 in prizes, Off Broadway was able to keep customers coming back, buying more, and telling their friends. The Sparkage app also allows you to filter leaderboards by week, month, or year. Even without contests or prizes, leaderboard status can be promoted and competition encouraged by sharing the customer of the month on your social media channels. Or, you can run a year-long contest for a truly grand prize.
No matter the rewards, a little friendly competition proves to be the perfect way to increase customer engagement for your business.
Want to get your customers excited enough about your business that they're telling all their friends about it? Request a demo to see how Sparkage can make your customer engagement efforts simple yet addicting.